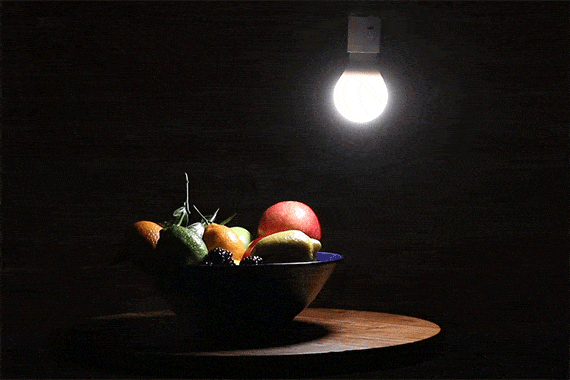 Photo: Sarah Kobos
We set out to recommend a satisfying and reliable LED version of your basic replacement light bulb. There's no single perfect light bulb for every lighting situation, so we looked for a line with options for color temperatures and brightness levels to offer flexibility for different preferences or applications. We considered these factors when choosing which bulbs to test:
Shape, base, and materials: Light bulbs come in many shapes and sizes, and they have different types of screw-in bases. We narrowed this guide's focus to the most common type, an A19 shape with an E26 base. This chart shows all of the shape and base styles, ranging from candelabra to trendy globe G-shape bulbs. Bulbs can be made from plastic or glass. GE's Mathew Sommers said there isn't much practical difference between the two materials for 40 W or 60 W bulbs, but that plastic bulbs can be better for higher-wattage bulbs. He told us that people (and companies) generally go for whatever is most affordable.
Brightness level options: LED bulbs labeled "60 W–equivalent" are bright yet subtle enough for most scenarios, although many people prefer 40 W–equivalent bulbs for places like a bedroom, where a softer glow helps make the space feel relaxed. Even though we measure LED brightness in lumens, which describe how much light a bulb puts out, people are so used to describing light bulb brightness using watts that most brands categorize bulbs using a wattage equivalency. The Federal Trade Commission (FTC) now requires brands to label all LED bulbs with a lighting facts label, which includes the bulb's brightness in lumens and how much energy it uses in watts. Here's an estimate of how LED wattage equivalents convert to lumens:
40 W = 450 lumens
60 W = 800 lumens
75 W = 1,100 lumens
100 W = 1,600 lumens
Dimmability: We chose to test only dimmable bulbs, because they offer a better ability to customize lighting to suit your mood, and also to future-proof your purchase. An LED bulb should last for years—manufacturers promise at least 10,000 hours of continuous use per bulb, and the Office of Energy Efficiency and Renewable Energy estimates at least 25,000—so it's wise to choose dimmable bulbs, in case you change your fixtures, move, or upgrade a lamp or switch (for example, with a Lutron dimmer). Dimmable bulbs work fine in a non-dimmable fixture; the reverse is not true.
Color temperature choices: We sought a bulb line with a range of color temperatures. Color temperature is measured in kelvin, and cooler light has a higher value, ranging from 3,600 to 5,500 K, while warmer light ranges from 2,700 to 3,500 K. Most brands describe 2,700 K temperatures as "soft white," 3,500 K as "bright white," and 5,000 K as "daylight," with some in-betweens. People may prefer cooler light for bathrooms, kitchens, workspaces, and garages, and they may prefer warmer light for bedrooms and sitting areas.
People may prefer cooler light for bathrooms, kitchens, workspaces, and garages, and they may prefer warmer light for bedrooms and sitting areas.
High CRI and R9 values: CRI (Color Rendering Index) measures color accuracy relative to incandescent bulbs, or natural daylight. Although LEDs still can't match incandescent bulbs, which have a CRI of 100, they've improved significantly in recent years. A CRI of 80 is now standard for LED bulbs. Higher is better, and great LED bulbs should accurately render colors. Lighting designer Geoff Goral told us that CRI as a metric has come under fire for measuring bulbs based on how well they portray pastel colors (instead of more saturated colors). Some bulbs now also list an R9 value, which indicates how well a bulb depicts red tones (making art, food, and people look better and less washed-out).
Compatible with enclosed fixtures: Not all LED bulbs will work with enclosed fixtures; we looked for bulbs that do. We limited our search to bulbs meant for indoor use, but some indoor bulbs will have a weather rating that allows them to be used outdoors as well.
Up to current regulations: California adopted Title 20 regulations, effective January 1, 2018, which outline strict energy-efficiency requirements for light bulbs and restrict which bulbs can be purchased in the state. To shop for compliant bulbs, use a search filter at Home Depot or Lowe's.
Low price: If you're furnishing a home or even a rental, the price of light bulbs can quickly add up. We calculated costs per bulb and looked for the most affordable options.
Long warranty: Because LED bulbs are designed to last for thousands of hours and many years, we favored bulbs with longer warranties. LED bulbs don't burn out—as they age, they fade and lose color accuracy.
No noise: Good bulbs shouldn't flicker, buzz, or hum. GE's Sommers explained that poor-quality drivers—the electronic part of the bulb that converts power to your home—or incompatible dimmers can cause these effects.
With these criteria in mind, we looked for new and notable bulbs in reviews from Digital Trends, Lifewire, and New York Magazine (many of the reviews were outdated or listed unavailable products). We read about what makes the best LED bulbs, from sources including Energy Star, Popular Mechanics, 1000Bulbs.com, and Lightology.com. We scoured the available bulbs on retailers like Amazon, Home Depot, and Lowe's; compared offerings from brands like Philips, GE, Feit, Cree, AmazonBasics, Sylvania, and Eco Smart; and also considered bulbs from niche brands like Soraa and Green Creative.