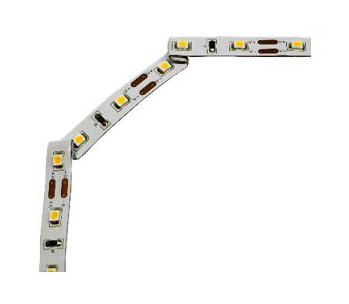 <![CDATA[<![CDATA[]]]]>]]>
LED strip lights have gotten the go-to answer for a lot of lighting initiatives. Strip lights are versatile, straightforward to put in, put out plenty of gentle, are cheap to buy and function and have an extended life expectancy. Moreover, strip lighting is accessible in 120-volt line voltage or 12-volt low-voltage, that means you need to use them in virtually any setting. In the event you haven't used LED strip lights earlier than, yow will discover out extra data right here: What Are LED Strip Lights?
Strip lights work nice for a lot of initiatives, however a current LED strip gentle set up utilized them above and beneath my kitchen cupboards. Putting in beneath the cupboards was fairly straightforward since I used to be simply doing straight runs. Nevertheless, as a result of I wished the strip lights to comply with the contours of my crown molding on the highest, I had to determine a straightforward approach to bend them round every nook of my numerous depths of cupboards. Strip lights bend nice on a single airplane — however not facet to facet. Subsequently, to put in an LED strip in a nook, I wanted to get difficult.
Choice #1: The Lower-and-Bounce
One answer is to purchase an LED strip gentle jumper connector, minimize the strip gentle and fasten the connector within the center. This lets you bend the 2 sections of strip gentle in any route as you'll be able to see from the picture. Utilizing a connector is the most suitable choice in case you don't have a bendable LED strip or in case you're apprehensive about damaging the strip.
The principle downside to utilizing a jumper connector for nook set up is that soldering is commonly wanted. Nevertheless, you should purchase connectors the place no soldering is required. That being stated, I'm inherently lazy and was decided to plot a better means.
Choice #2: The Ribbon Bend
After a little bit of fiddling, I discovered a straightforward answer for my LED strip nook set up that seemed good and was straightforward to implement. I'm calling it the "ribbon bend". (Others name it the "90-Diploma Pinch".) Basically, I'm looping or contorting the strip again round in a good curl that doesn't harm the strip gentle and permits me to vary route.
As you'll be able to see, the nook portion doesn't follow the floor. It form of floats there. Since that is only a brief part, it doesn't have an effect on the set up integrity or have any vital influence on the uniformity of the sunshine output. That's all there may be to it. I used this system in my LED lighting strips set up to show all my corners with out the necessity of any extra equipment or added trouble and I'm more than happy with the completed outcomes.
Since finishing this mission, I've found two different methods you'll be able to bend your LED strip lights round corners.
Choice #3: The Nook Fold
You possibly can put a 90-degree fold in a strip gentle utilizing the next steps:
Lay the strip on a flat service and discover the purpose the place you'll be making the fold.
Fold the strip gentle at a 45-degree angle in the other way of the nook.
Bend the fold again on itself.
Crease the fold and use tremendous glue to safe it.

This nook fold has a extra completed search for conditions the place the strip lights will clearly be seen.

Choice #4: The Accordion Curve

Create a gradual flip in your strip lights by utilizing small accordion folds which can be spaced out by a number of inches. The folding approach is just like what's described above. Use accordion curves for rounded edges and non-90-degree angles (both larger or smaller than).
<![CDATA[<![CDATA[]]]]>]]>Please allow JavaScript to view the feedback powered by Disqus. <![CDATA[<![CDATA[<![CDATA[ var faq_schema = { data: { "@context": "https://schema.org", "@type": "FAQPage", "mainEntity": [] }, prepare: function(){ var obj = this; var ancestor = document.getElementById('faqContainer'), descendents = ancestor.getElementsByTagName('p'); var i, descendentsLength = descendents.length; for (i = 0; i -1){ this.prepare(); this.render(); } } }.init(); ]]]]]]>]]]]>]]><![CDATA[<![CDATA[]]]]>]]><![CDATA[<![CDATA[]]]]>]]><![CDATA[<![CDATA[ dropWidth auto set 100%) dropType: 'imageRight', // Type of Dropdown MegaMenu content: imageLeft, imageRight, noImage cateAreaWidth: '65%', // width of categories area imageAreaWidth: '35%', // width of images area cateColumns: 3, // columns of categories area - max 5 columns // contents for images column (HTML supported) images: '
' }); */ /* menuItem(1).HaloMegaMenu({ dropAlign: 'fullWidth', // Dropdown MegaMenu Alignment: left, right, center, fullWidth dropWidth: '800px', // Width of Dropdown MegaMenu (if dropAlign: fullWidth => dropWidth auto set 100%) dropType: 'imageRight', // Type of Dropdown MegaMenu content: imageLeft, imageRight, noImage cateAreaWidth: '50%', // width of categories area imageAreaWidth: '50%', // width of images area cateColumns: 2, // columns of categories area – max 5 columns // contents for images column (HTML supported) images: '
]]]]]]>]]]]>]]>
' }); */ menuItem(1).HaloMegaMenu({ dropAlign: 'fullWidth', // Dropdown MegaMenu Alignment: left, proper, middle, fullWidth dropWidth: '800px', // Width of Dropdown MegaMenu (if dropAlign: fullWidth => dropWidth auto set 100%) dropType: 'imageRight', // Kind of Dropdown MegaMenu content material: imageLeft, imageRight, noImage cateAreaWidth: '75%', // width of classes space imageAreaWidth: '25%', // width of photographs space cateColumns: 3, // columns of classes space – max 5 columns // contents for photographs column (HTML supported) photographs: '
' }); //Place #2 /* menuItem(2).HaloMegaMenu({ dropAlign: 'fullWidth', // Dropdown MegaMenu Alignment: left, proper, middle, fullWidth dropWidth: '800px', // Width of Dropdown MegaMenu (if dropAlign: fullWidth => dropWidth auto set 100%) dropType: 'imageRight', // Kind of Dropdown MegaMenu content material: imageLeft, imageRight, noImage cateAreaWidth: '50%', // width of classes space imageAreaWidth: '50%', // width of photographs space cateColumns: 2, // columns of classes space – max 5 columns // contents for photographs column (HTML supported) photographs: '
' }); */ /* menuItem(2).HaloMegaMenu({ dropAlign: 'fullWidth', // Dropdown MegaMenu Alignment: left, proper, middle, fullWidth dropWidth: '800px', // Width of Dropdown MegaMenu (if dropAlign: fullWidth => dropWidth auto set 100%) dropType: 'imageRight', // Kind of Dropdown MegaMenu content material: imageLeft, imageRight, noImage cateAreaWidth: '50%', // width of classes space imageAreaWidth: '50%', // width of photographs space cateColumns: 2, // columns of classes space – max 5 columns // contents for photographs column (HTML supported) photographs: '
' }); */ menuItem(2).HaloMegaMenu({ dropAlign: 'fullWidth', // Dropdown MegaMenu Alignment: left, proper, middle, fullWidth dropWidth: '800px', // Width of Dropdown MegaMenu (if dropAlign: fullWidth => dropWidth auto set 100%) dropType: 'imageRight', // Kind of Dropdown MegaMenu content material: imageLeft, imageRight, noImage cateAreaWidth: '75%', // width of classes space imageAreaWidth: '25%', // width of photographs space cateColumns: 3, // columns of classes space – max 5 columns // contents for photographs column (HTML supported) photographs: '
' }); //Place #3 /*menuItem(3).HaloMegaMenu({ dropAlign: 'fullWidth', // Dropdown MegaMenu Alignment: left, proper, middle, fullWidth dropWidth: '800px', // Width of Dropdown MegaMenu (if dropAlign: fullWidth => dropWidth auto set 100%) dropType: 'imageRight', // Kind of Dropdown MegaMenu content material: imageLeft, imageRight, noImage cateAreaWidth: '60%', // width of classes space imageAreaWidth: '40%', // width of photographs space cateColumns: 3, // columns of classes space – max 5 columns bottomCates: '
', // contents for photographs column (HTML supported) photographs: '
Featured Classes

Cosmopolis

Phasellus lorem malesuada ligula pulvinar commodo maecenas suscipit auctom

Store Now


Cosmopolis

Phasellus lorem malesuada ligula pulvinar commodo maecenas suscipit auctom

Store Now


Cosmopolis

Phasellus lorem malesuada ligula pulvinar commodo maecenas suscipit auctom

Store Now


Cosmopolis

Phasellus lorem malesuada ligula pulvinar commodo maecenas suscipit auctom

Store Now
' }); */ menuItem(3).HaloMegaMenu({ dropAlign: 'fullWidth', // Dropdown MegaMenu Alignment: left, proper, middle, fullWidth dropWidth: '800px', // Width of Dropdown MegaMenu (if dropAlign: fullWidth => dropWidth auto set 100%) dropType: 'imageRight', // Kind of Dropdown MegaMenu content material: imageLeft, imageRight, noImage cateAreaWidth: '75%', // width of classes space imageAreaWidth: '25%', // width of photographs space cateColumns: 3, // columns of classes space – max 5 columns // contents for photographs column (HTML supported) photographs: '
' }); //Place #4 /* menuItem(4).HaloMegaMenu({ dropAlign: 'fullWidth', // Dropdown MegaMenu Alignment: left, proper, middle, fullWidth dropWidth: '800px', // Width of Dropdown MegaMenu (if dropAlign: fullWidth => dropWidth auto set 100%) dropType: 'imageTop', // Kind of Dropdown MegaMenu content material: imageLeft, imageRight, noImage imageAreaWidth: '0%', // width of photographs space cateAreaWidth: '100%', // width of classes space cateColumns: 5, // columns of classes space – max 5 columns // contents for photographs column (HTML supported) imagesTop: ['
', '
', '
', '
', '
' ] }); */ menuItem(4).HaloMegaMenu({ dropAlign: 'fullWidth', // Dropdown MegaMenu Alignment: left, proper, middle, fullWidth dropWidth: '800px', // Width of Dropdown MegaMenu (if dropAlign: fullWidth => dropWidth auto set 100%) dropType: 'imageRight', // Kind of Dropdown MegaMenu content material: imageLeft, imageRight, noImage cateAreaWidth: '100%', // width of classes space imageAreaWidth: '0%', // width of photographs space cateColumns: 5, // columns of classes space – max 5 columns // contents for photographs column (HTML supported) photographs: " }); //Place #5 menuItem(5).HaloMegaMenu({ dropAlign: 'fullWidth', // Dropdown MegaMenu Alignment: left, proper, middle, fullWidth dropWidth: '800px', // Width of Dropdown MegaMenu (if dropAlign: fullWidth => dropWidth auto set 100%) dropType: 'imageRight', // Kind of Dropdown MegaMenu content material: imageLeft, imageRight, noImage cateAreaWidth: '100%', // width of classes space imageAreaWidth: '0%', // width of photographs space cateColumns: 5, // columns of classes space – max 5 columns // contents for photographs column (HTML supported) photographs: " }); //Place #6 menuItem(6).HaloMegaMenu({ dropAlign: 'fullWidth', // Dropdown MegaMenu Alignment: left, proper, middle, fullWidth dropWidth: '800px', // Width of Dropdown MegaMenu (if dropAlign: fullWidth => dropWidth auto set 100%) dropType: 'imageRight', // Kind of Dropdown MegaMenu content material: imageLeft, imageRight, noImage cateAreaWidth: '100%', // width of classes space imageAreaWidth: '0%', // width of photographs space cateColumns: 5, // columns of classes space – max 5 columns // contents for photographs column (HTML supported) photographs: " }); //Place #6 menuItem(7).HaloMegaMenu({ dropAlign: 'fullWidth', // Dropdown MegaMenu Alignment: left, proper, middle, fullWidth dropWidth: '800px', // Width of Dropdown MegaMenu (if dropAlign: fullWidth => dropWidth auto set 100%) dropType: 'imageRight', // Kind of Dropdown MegaMenu content material: imageLeft, imageRight, noImage cateAreaWidth: '100%', // width of classes space imageAreaWidth: '0%', // width of photographs space cateColumns: 4, // columns of classes space – max 5 columns // contents for photographs column (HTML supported) photographs: " }); //Place #7 menuItem(8).HaloMegaMenu({ dropAlign: 'fullWidth', // Dropdown MegaMenu Alignment: left, proper, middle, fullWidth dropWidth: '800px', // Width of Dropdown MegaMenu (if dropAlign: fullWidth => dropWidth auto set 100%) dropType: 'imageRight', // Kind of Dropdown MegaMenu content material: imageLeft, imageRight, noImage cateAreaWidth: '100%', // width of classes space imageAreaWidth: '0%', // width of photographs space cateColumns: 4, // columns of classes space – max 5 columns // contents for photographs column (HTML supported) photographs: " }); }); <![CDATA[<![CDATA[ nav > ul').html()); $('#mobile-categories ul').css('max-height', screen.height); $('#mobile-categories ul li').has('ul li').addClass('hasSub').prepend("); $('#mobile-categories ul li.hasSub > span').click(function() { if ($(this).hasClass('toggle-expand')) { $(this).siblings('.subMegaMenu').addClass('sub-expand'); $(this).parent().addClass('expanded'); $(this).attr('class', 'toggle-close'); } else if ($(this).hasClass('toggle-close')) { $(this).siblings('.subMegaMenu').removeClass('sub-expand'); $(this).parent().removeClass('expanded'); $(this).attr('class', 'toggle-expand'); } }); }); ]]]]]]>]]]]>]]><![CDATA[<![CDATA[]]]]>]]><![CDATA[<![CDATA[]]]]>]]><![CDATA[<![CDATA[]]]]>]]><![CDATA[<![CDATA[]]]]>]]><![CDATA[<![CDATA[]]]]>]]><![CDATA[<![CDATA[]]]]>]]><![CDATA[<![CDATA[<![CDATA[ /* */ ]]]]]]>]]]]>]]><![CDATA[<![CDATA[]]]]>]]>
<![CDATA[<![CDATA[<![CDATA[ function init() { var vidDefer = document.getElementsByTagName('iframe'); for (var i=0; i]]]]>]]><![CDATA[<![CDATA[<![CDATA[ $(document).ready(function(){ $(document).ready(function(){ $('',{type:'text/javascript', id:"bolt-connect", src:'https://connect.bolt.com/connect-bigcommerce.js', "data-publishable-key":"zXb6PPbPRsKa.Wg4i87kx85w6.46cd21cde717ef1be15ef8f1c1cccb109c61831203e3afa5ac3d74b6af2250b3", "data-shopping-cart-id":"BigCommerce"}).appendTo('head'); }); }); ]]]]]]>]]]]>]]>

Source