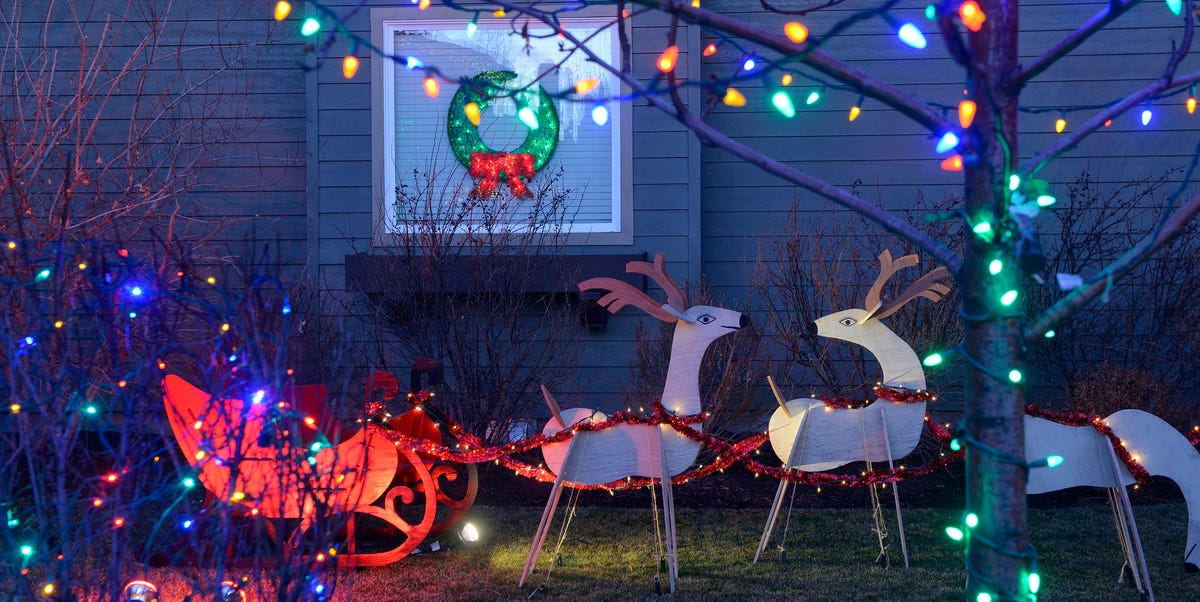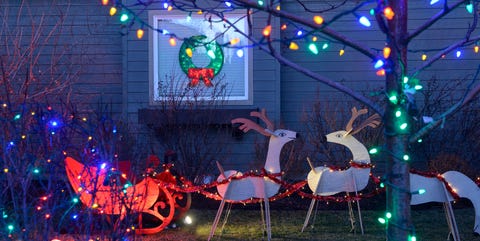 Regula Heeb-ZweifelGetty Images
Winter is well on its way, which means it's time to start thinking about your holiday decorating scheme—if you haven't already, that is. First step: lighting! Maybe you prefer to go the simple, warm-white string lights approach, maybe you want something that feels a little more fun and playful, maybe you're all about nostalgia, or maybe you're planning to go all out, National Lampoon's Christmas Vacation style. In any case, there are tons of outdoor Christmas lights to choose from out there, so we've rounded up some of the best—that is, highly reviewed by customers, or just plain cool—holiday lights you can buy online this season.
From fairy lights and vintage-inspired C9 bulbs to hanging icicle lights and falling stars (not to mention a projector and a gadget that can turn your favorite lights into an animated musical display!), amazing options await you. And your home? It's never looked so festive. If it were a competition, you'd win best-decorated for sure. Plus, most of these lights are affordable, and some are even solar-powered to help you save on your electric bill come December!
Advertisement – Continue Reading Below
1
Best Overall Christmas Lights
100-Count Green Wire Christmas Lights Prextex amazon.com
$14.99
For the ultimate in classic Christmas string lights, these bright white, green-wired lights (that are super popular on Amazon, by the way!) should do the trick. You can also get them in a multi-color option, if white isn't your go-to.
2
Best White Wire Christmas Lights
100-Count White Wire Christmas Lights
Or, for those of you who prefer a white wire with white lights, these are another Amazon-favorite pick for the holiday season.
3
Best Vintage Christmas Lights
50-Count LED Multi-Color C9 Strawberry Lights Vanthylit amazon.com
$22.99
For a colorful, vintage flair, these large, strawberry-shaped C9 lights are a fun addition to any house. Plus, since they're LEDs, they'll shine brighter than ever before, and you'll pretty much never have to worry about them all burning out by next season.
4 25-Count LED White C9 Strawberry Lights
If you like the textured look of those vintage-inspired strawberry C9 bulbs but aren't a fan of colorful lights, these cool white bulbs will give you the same nostalgic feeling but with a neutral color palette—and with individual clips on each light, it's easy to line your roof (or just about anything) for a polished, wintry aesthetic.
5
Best Colorful Mini Lights
300-Count Mini Multi-Color LED String Lights
If tinier bulbs are more your style, these mini LEDs are a great option—they come in multi-color and warm white, and will give your tree (or roof, or wherever!) a pretty glow without the bulbs being too in-your-face.
6
Best Color-Changing Lights
200-Count Color-Changing LED Mini String Lights LECLSTAR amazon.com
$29.89
Can't decide between white lights and colorful ones? These mini LED fairy lights make it so you don't have to choose, since they can be switched back and forth to whatever suits your mood.
7 30-Count Blue Globe LED Solar String Lights (Pack of 2)
Joomer amazon.com
These frosted blue globe lights are perfect for creating a cool, icy look that would make even Elsa jealous. But if blue's not your style, they also come in pink, purple, red, warm white, cool white, and multi-color options, as well as a dual warm and cool white look.
8 55′ LED Multi-Color Globe Lights
Best Vintage amazon.com
Go for something that feels a little more modern and fun with these multi-color globe lights. They also come in white, if you want a soft glow instead.
9
Best Icicle Lights
29.5′ LED Icicle Lights Toodour amazon.com
$39.99
Hang string-light icicles from your roof with these warm white strands, or get them in cool white, multi-color, and color-changing options.
10 8-Count Meteor Shower LED Lights
Adecorty amazon.com
$22.99
Looking for a unique alternative to the traditional icicle string lights? These "meteor shower" lights look like falling stars cascading from trees (or wherever else you hang them from). You can score them in white, as seen here, or in a cool blue or purple.
11
Best Rope Lights
33′ Dimmable Multi-Colored LED Rope Light
Rope lights are great for wrapping around trees, columns, and fences. These ones are battery-powered and dimmable, with a remote to control them as you wish.
12
Best Solar-Powered Lights
Solar Powered Copper Wire Fairy Lights
These copper-wire fairy lights are solar powered, so they'll automatically start to light up your house (or trees, or bushes!) as soon as the sun goes down.
13
Best Snowflake Lights
19.6′ Battery-Operated Snowflake String Lights
You don't need snow to have a white Christmas this year, thanks to these snowflake lights that look festive just about anywhere. And if pure white isn't your thing, these lights also come in warm white.
14
Best Star Lights
30′ Solar-Powered Star String Lights
amazon.com
Add a little novelty with these star-shaped string lights, that are perfect for the holiday season but also totally work year-round.
15 138 LED Star Curtain String Lights
amazon.com
Speaking of stars, these warm white star-shaped curtain lights will add a fun, celestial glow to any window or wall.
16
Most Unique Christmas Lights
Hanging Christmas Tree Light
If you've got a tree or a ledge from which to hang this Christmas tree comprised of string lights (and topped with a star, of course!) it'll certainly be a stunner in your yard.
17
Best Pathway Lights
Candy Cane Pathway Lights
amazon.com
Light the way to your front door with these pathway marking lights shaped like red-and-white candy canes.
18
Best Light Projector
Outdoor Laser Light Projector
Go bold with a multi-color light projector to add flecks of red and green to the exterior of your entire home—it'll look like super festive snow is falling.
19 Outdoor Lights & Sounds of Christmas System
Mr. Christmas bestbuy.com
$74.99
If you really want to go all out, you can use a system like this one to program your lights to holiday music for the ultimate Christmas light show.
20
Best Roof Clips for Lights
100-Count All-Purpose Outdoor Light Clips
And of course, none of these lights would be complete without some handy clips to hang them from your roof, no matter what type of lights you buy.
Brittney Morgan Associate Market Editor, House Beautiful Brittney Morgan is House Beautiful's Associate Market Editor, a noted land mermaid, and a Virgo with a penchant for crafts, red lipstick, and buying way too many throw pillows.
This content is created and maintained by a third party, and imported onto this page to help users provide their email addresses. You may be able to find more information about this and similar content at piano.io
Advertisement – Continue Reading Below